Physical filtration is an important water treatment option. But, the headache comes with choosing the right filter to use. There are a ton of water filters out there. When you buy one without being familiar with these types, you could run into some problems. So understanding each type is crucial for making the right procurement.
Here are the 16 most common materials to produce water filters I've combed through for Chinese manufacturers:
UF (ultrafiltration)
PP(polypropylene)
PVC (polyvinyl chloride)
PVDF (polyvinylidene fluoride)
PE (polyethylene)
PP cotton (polypropylene fiber cartridge)
Activated Carbon
GAC (granular activated carbon)
CTO (compressed activated carbon)
ACF (activated carbon fiber)
T33 post-activated carbon
RO (reverse osmosis membrane)
KDF filter media
Quartz sand
UV sterilization
Ceramic
Now, we're going to look into these materials of water filters in-depth. Read on to find out all you need to know about the top filter types as an importer from China.
UF (ultrafiltration)
UF or Ultra-Filter is a membrane with very small pores. It stands above the rest of the water filters for its ability to get rid of all microorganisms in the water. UF doesn't only kill the germs but gets also removes their bodies from the water. So, if you want to get very pure water, consider getting this filter.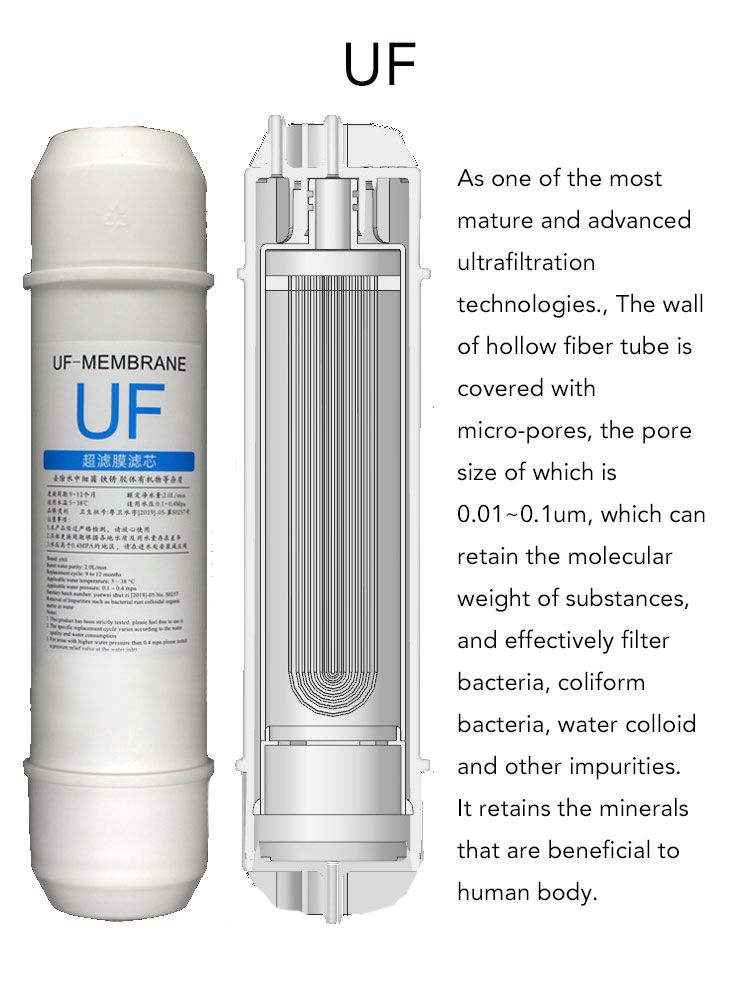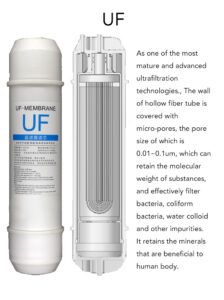 Also, this filter is completely manual. So you don't have to worry about electricity for use. Yet, UF has its downside, which is its inability to remove dissolved salts or solids from the water. You also don't want to use UF for water that contains heavy metals, nitrates are other contaminants.
So before going for UF, ensure you have access to a constant tap water supply. The reason for that is simple. Unlike muddy water, tap water doesn't contain dissolved solids or particles.
Still, when it comes to longevity, the UF will do its job for more than 10 years before you can think of servicing it.
PP (polypropylene)
PP fiber filter contains 100% polypropylene, which comes from 85% propylene. Its chemical compatibility allows you to use it as a filter for a wide range of liquids. The good thing is that it doesn't cause pollution to the water.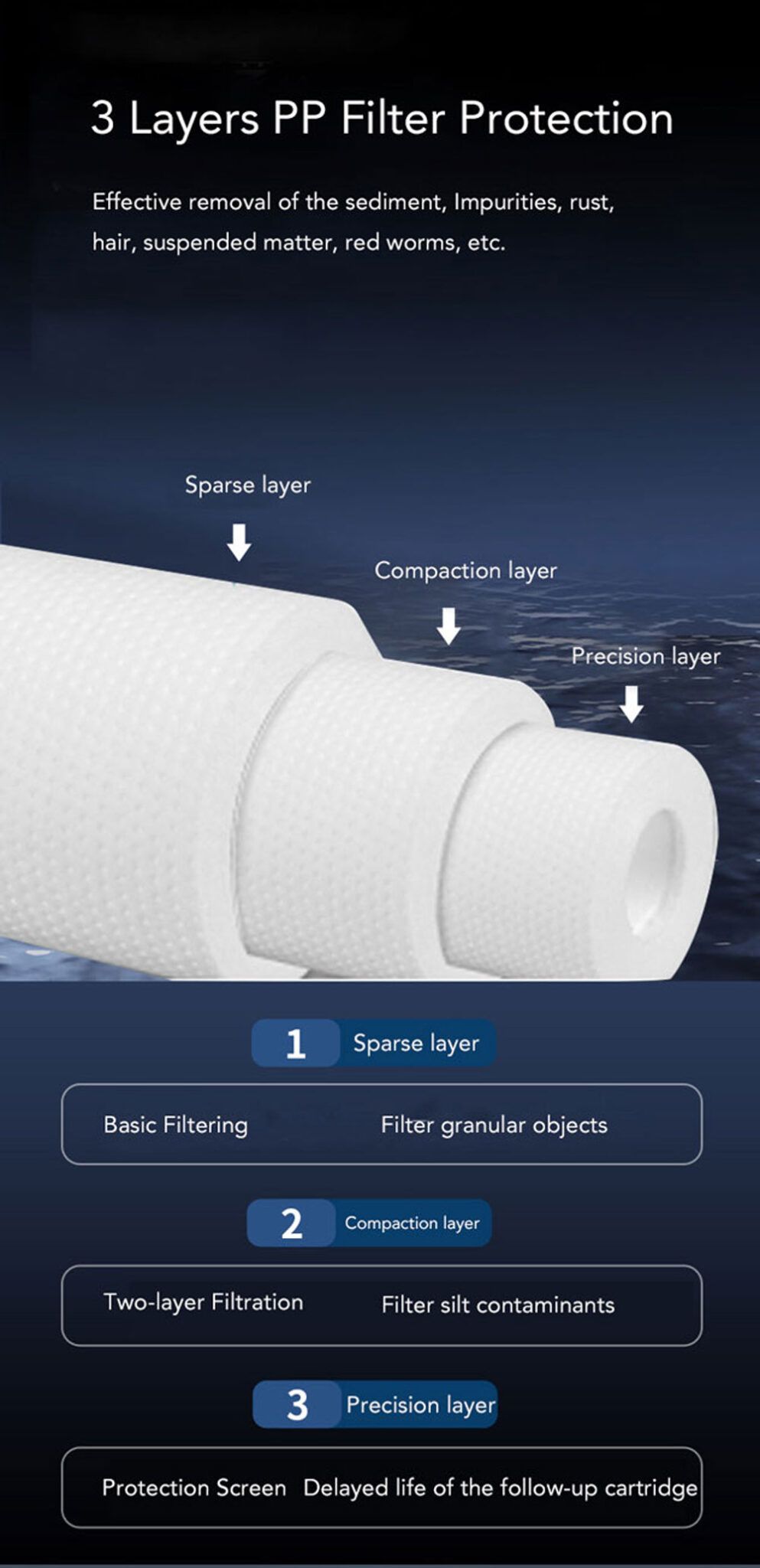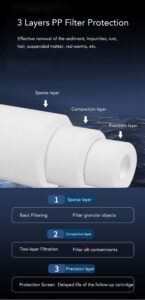 The material has a high filtration surface. It can filter particles such as dirt, rust, and other sediments. PP finds common use in the first stage of a multi-stage water filtration process
PVC (polyvinyl chloride)
water filters made of PVC are popular for their strong resistance to acid and water. That means you can use them to purify water from different sources. PVC has good electrical properties, particularly its insulating ability.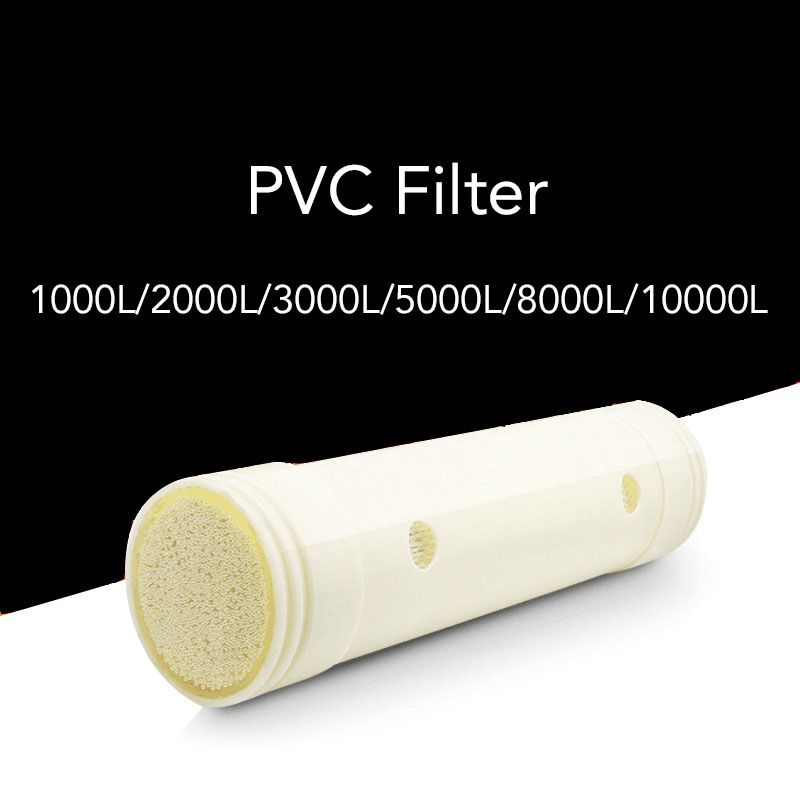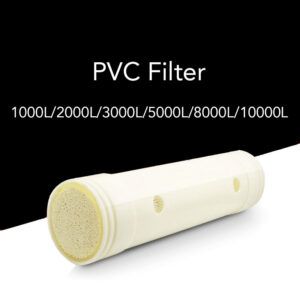 PVC ranks as a very durable material and that explains why it finds use for a variety of purposes. Its extensive use in pipes and reservoir helps provide safe drinking water to homes.
PVDF (polyvinylidene fluoride)
PVD, although more expensive than PVC, boasts of a tougher build. It's described as 'permanently' hydrophilic. The material has high chemical stability. It also has immense resistance to oxidation, aging, radiation, and alkali.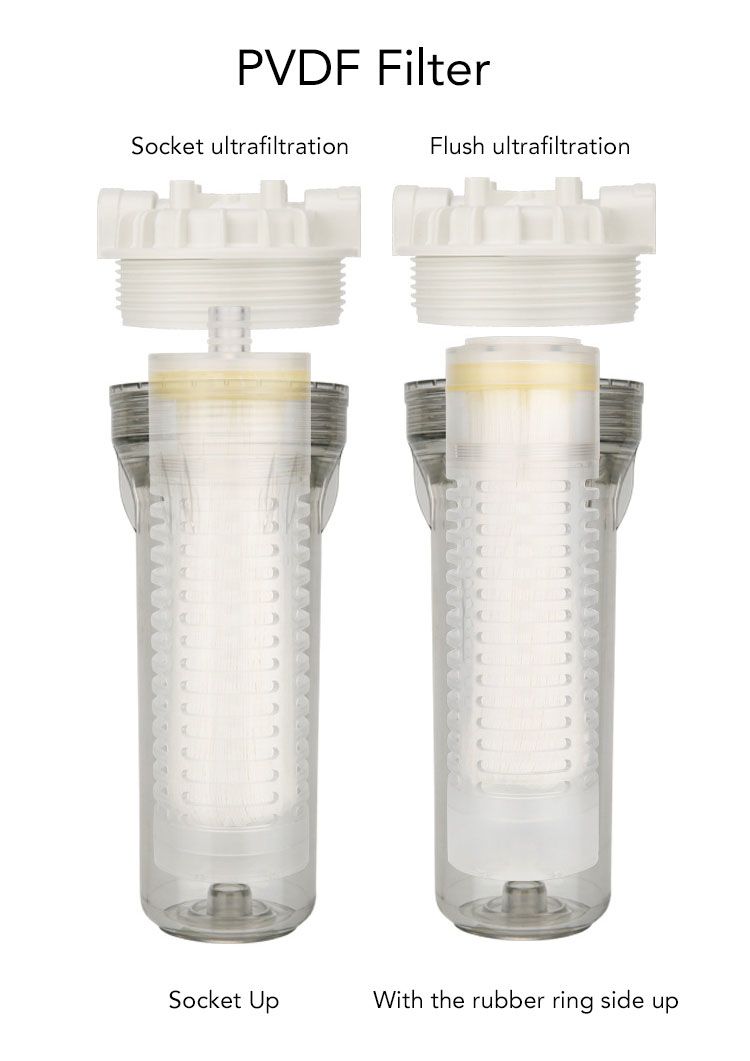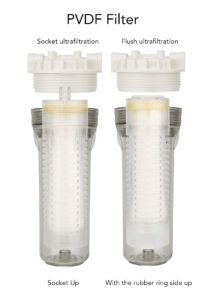 It is available to be an alternative to PP to be the pre-treatment filter, PVDF ultrafiltration is aimed at removing residual chlorine, corrosion resistance. The lifetime is 3-5 years without aging.
The biggest pro of the PVDF is it can be repeated cleaning(Video).
PE (polyethylene)
With PE sintered filter elements, you have a guarantee of very good filtration accuracy. PE sintered cartridge adopts high molecular weight polyethylene as the main raw material, which is sintered at high temperature by scientific formula, and the material meets the requirements of GMP and FDA.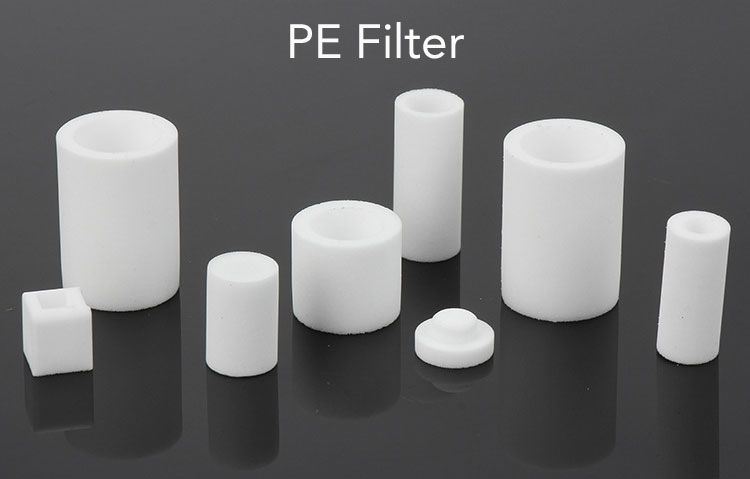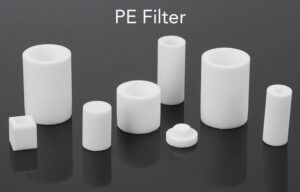 High-molecular-weight polyethylene has better acid and alkali resistance than ordinary polyethylene. Below 80C, its acid and alkali resistance is comparable to that of PTFE, and its rigidity and flexibility are better than those of ordinary polyethylene. It has good mechanical properties, and the cartridge aperture is the same inside and outside, so it is easy to backflush and deslag. The filtration layer is thick and the filtration effect can be guaranteed even when the working pressure is high.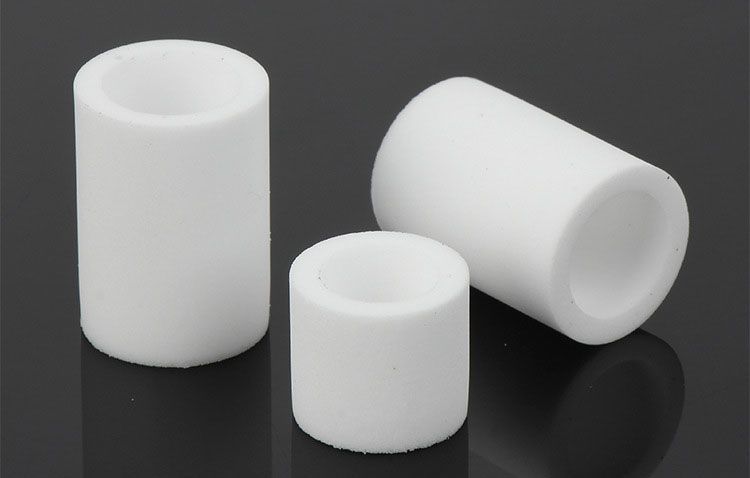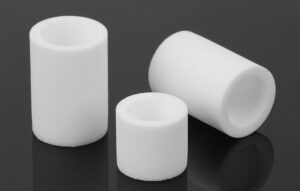 The process pushes water through the several pores in the PP fiber. The pores then trap insoluble particles and dirt in the water. PE can handle high-pressure water because of its incredible strength.
Also, PE is excellent at filtering water of high viscosity. It is resistant to different acids and alkali. But nitric acid and sulfuric acid could damage the material.
PP cotton (polypropylene fiber cartridge)
PP cotton is a precision filter material. It's an anti-pollution filter that's very effective for quality water treatment. It's compressed with polypropylene material. This filter finds wide application in filtering water for health and safety purposes.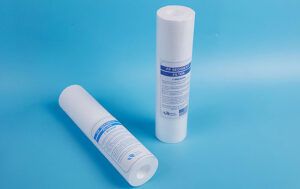 PP cotton has low absorption force and low filtrate retention. It is compatible with a wide range of chemical elements.
PP is a popular choice because it's a very cheap material compared to other options. But, when the surface starts to yellow, you might have to get a new one because you can't clean it.
Activated Carbon
The use of fine carbon powder in filter cartridges is very popular. It helps in eliminating odor and chlorine taste from the water. Not only that, it is effective at removing different contaminants that may be in the water. This results from the large surface area that carbon powder provides. Its high porosity is also a contributing factor.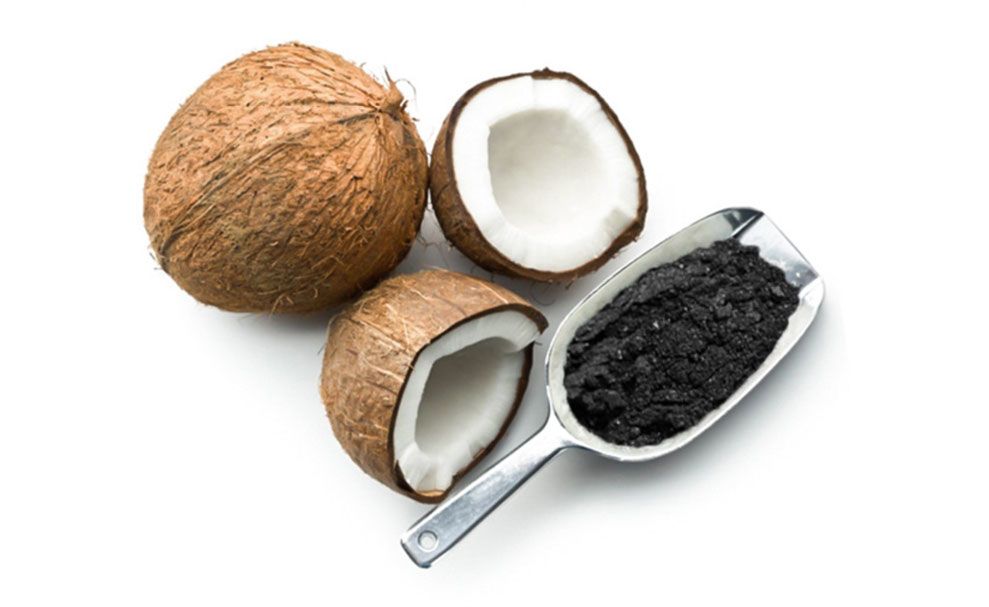 It works by trapping all particles larger than the pores of the filter. While this is going on, the filter works to get rid of bad smells and tastes. The positive charges on the carbon pull the negatively charged chemicals in the water.
But activated carbon, too, has its disadvantages. While it's effective at getting rid of bacteria, it still can't get rid of all. Also, activated carbon won't do enough to reduce the cysts, bacteria, and other microbes. Besides, it's ineffective at removing inorganic pollutants.
Activated carbon will do little to remove dissolved solids and minerals.
GAC (granular activated carbon)
GAC is comparable to activated carbon. The adsorption capacity is the best. It's very effective at eliminating the taste and smell of chlorine from water. But, it has reduced effectiveness when it comes to getting rid of contaminants. That's because of the larger carbon granules. Yet, these millimeter-sized granules are very effective at trapping a variety of contaminants.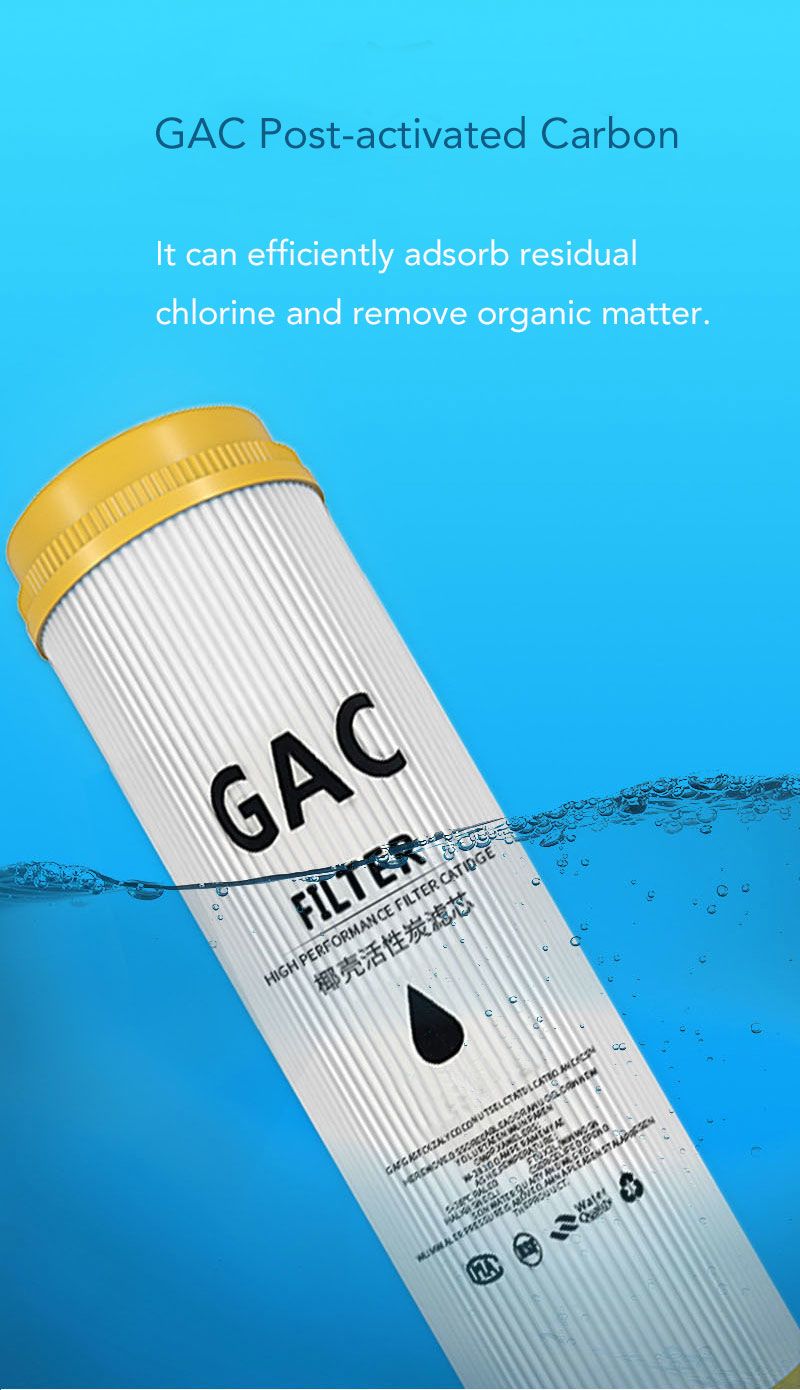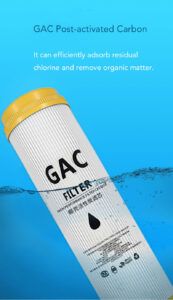 GAC water filters are generally inexpensive. Also, the carbon granules can be re-activated and reused. That's an advantage that you can't get with carbon block water filters. Also, these water filters have a surface area larger than what you'd find in other filter types. They are also very porous.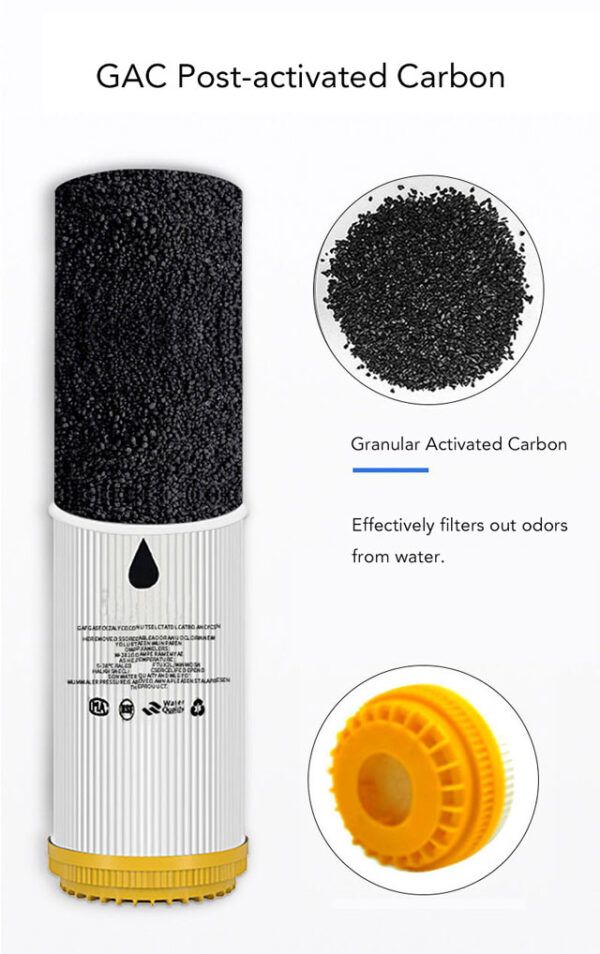 When it comes to filtration rate, GAC water filters beat the typical activated carbon. They allow a large volume of water to pass through them. As a result, they make for a great fit for high-flow filtration. Also, it has better longevity and works well in a multi-stage filtration setup.
ACF (activated carbon fiber)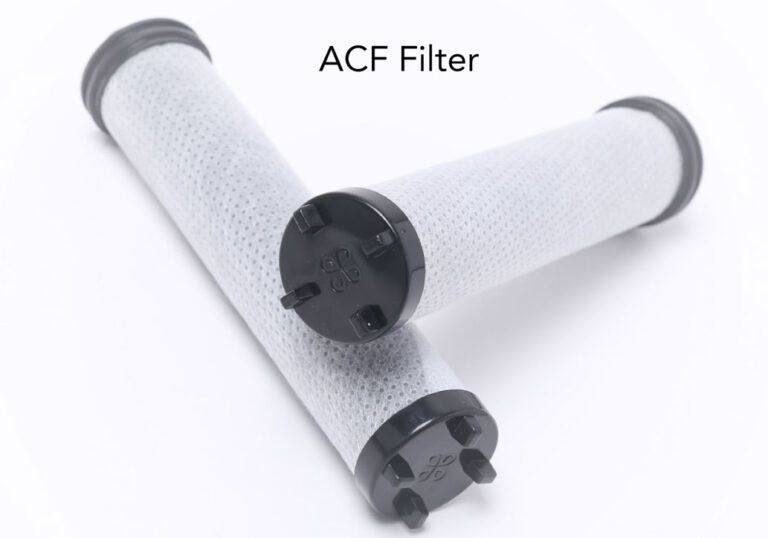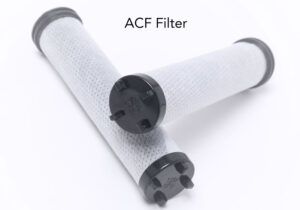 ACF (activated carbon fiber), also called activated charcoal, is a popular adsorbent material. It is claimed to have the strongest adsorption capacity, but very few factory use this. Seems like it is gimmick.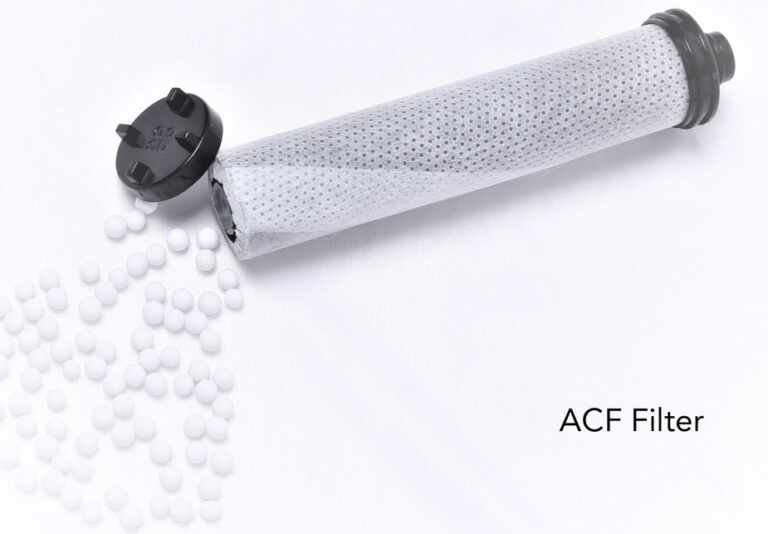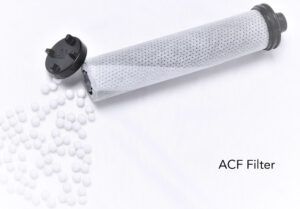 In theory ACF can reduce the amount of total suspended solids (TSS) in water by up to 99%. As if that's not incredible enough, ACO is effective at removing heavy metals. It also removes sediments, chlorine, and contaminants you don't want in drinking water.
CTO (compressed activated carbon)
If you need an even better-tasting water compared to that of GAC, then CTO can give you that. The reason for that is simple: CTO compresses particles of the same size to filter.
CTO has a high absorption rate for smell, chlorine, and even color. It's interesting to note that it gets its name from Chlorine, Taste, and Order.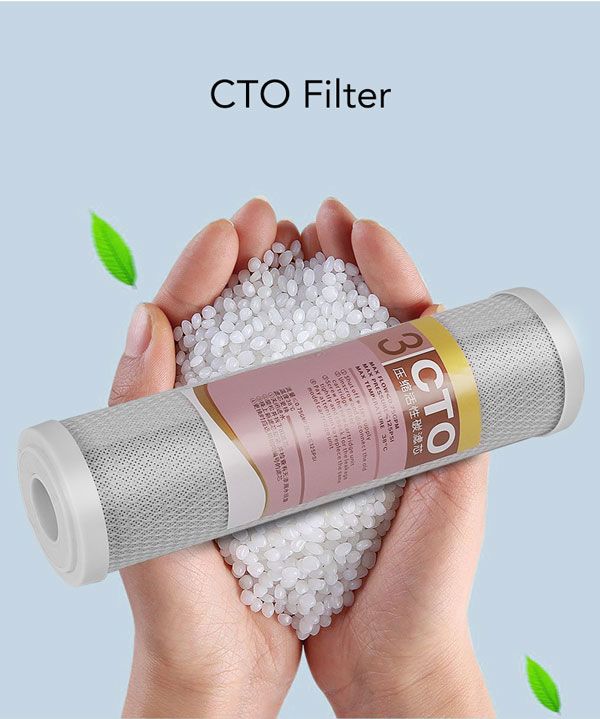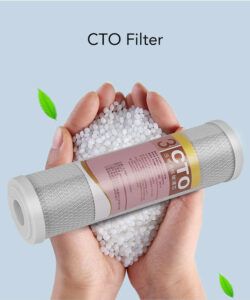 Also, CTO is effective at removing particles as small as 10 microns. Because of the activated carbon, there's a larger surface area and small-sized pores.
But, it's not all rosy with CTO. It cannot handle large particles or remove bacteria from the water. You have its processing of large water volume to blame for that.
Usually, you'll have to use a more intensive filtration process. This will filter bacteria and larger contaminants.
RO (reverse osmosis membrane)
The RO is one of the most popular and effective filter types employed in water purification. This semipermeable membrane can filter most contaminants present in water. The only exception would be some solvents, pesticides, and volatile organic compounds.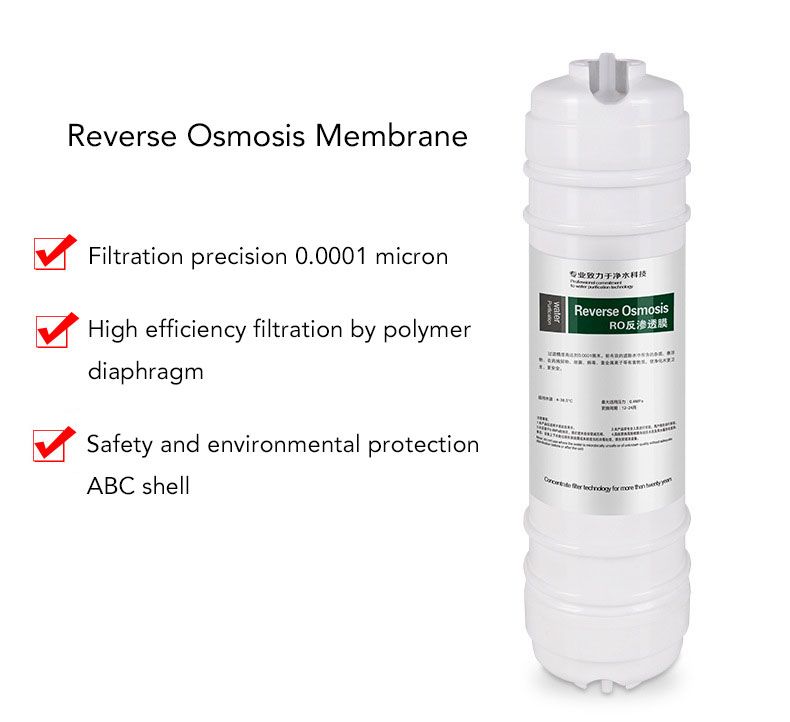 You can depend on it to get rid of dissolved solids, bacteria, iron, lead, and others in your water. That's regardless of its low filtration rate. Many argue that reverse osmosis filtration produces the purest drinking water.
There's a downside you should consider, though. Because of its intensive filtration rate, it produces a high amount of wastewater.
T33 post-activated carbon
After using RO, you may want to consider using the T33 post-activated carbon. This will enhance the water taste. It's excellent not only at improving the taste but also at removing odor.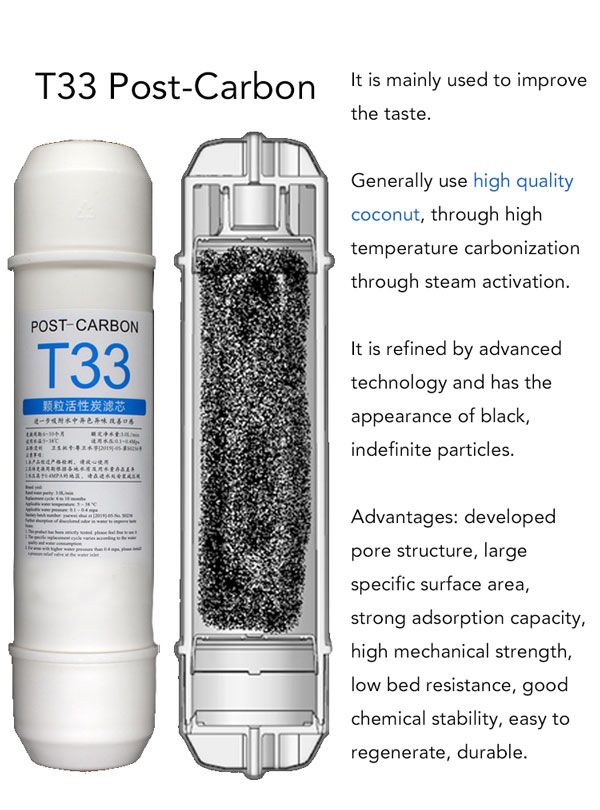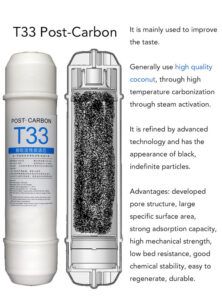 Although it lasts between 6 months to 1 year, its duration will depend on the use. It finds application in general water purification and decolorizing.
KDF filter media
KDF (Kinetic Degradation Fluxion) also known as gold in water, it is expensive. It is a copper-zinc alloy material. The main function is to replace the heavy metal ions in the water with zinc ions. It cannot be used alone, but with a water purification device. Usually when you see KDF filter media are used with activated carbon.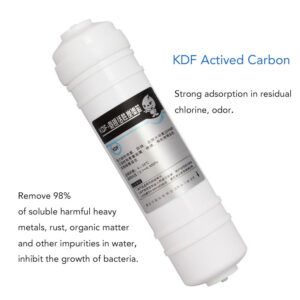 Why should be used with activated carbon?
Mainly KDF in the replacement of heavy metals in the water will release zinc ions, the amount of zinc ions released and the amount of chlorine inside the water into a certain ratio, the more chlorine the more zinc ions released. Therefore, the general manufacturers are KDF sandwiched in the middle of the activated carbon to use.
Use the activated carbon in front to adsorb the chlorine inside the water, after a large amount of chlorine is reduced, then use KDF to replace the heavy metals inside the water.
The released zinc ions are then adsorbed by the activated carbon behind. KDF generally lasts no more than 1 year. The KDF filter is very effective at removing harmful substances from water.
Quartz sand
Quartz sand possesses stable chemical properties and it's also a tough material. It's effective at removing organic materials, and colloid particles from water. This filter also reduces chlorine, smell, and insoluble liquids.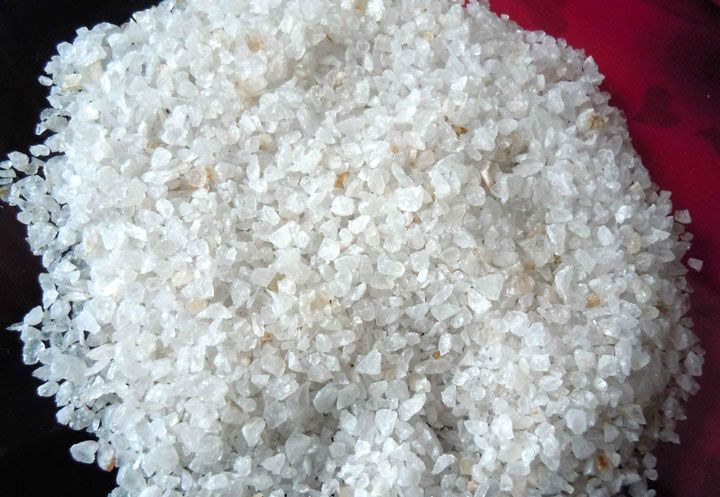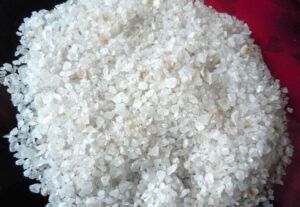 It's a cheap option compared to other filter types. But, it cannot remove bacteria and viruses. Acting as an impurity filter in most use cases, you can depend on Quartz sand to make turbid water clearer.
Many people prefer to use quartz sand as a pre-filter for the RO process. It removes particles as small as 10 µm and passes them to the RO process. RO filter then takes care of the remaining particles and microbes.
UV sterilization
UV (ultraviolet) sterilization is particularly useful for disinfecting water. It uses UV light to produce safe and healthy water.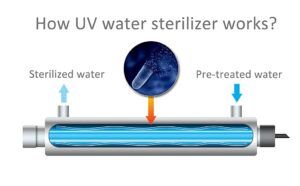 (Picture From Amazon)
Here's how it works. The UV light (of a particular wavelength) disturbs the DNA of microorganisms in the water. It targets the microbes' ability to reproduce and carry out other essential functions. As a result, the microorganisms are unable to cause infections in humans.
With UV sterilization, you can expect to get rid of up to 99.99% of microbes in water
The best part of it all is that you don't have to use any chemicals in the entire process.
Ceramic
It's interesting to note that the ceramic water filtration system is over 200 years old. Ceramic water water filters allow you to remove sediments and bacteria from water. This process doesn't need any additives.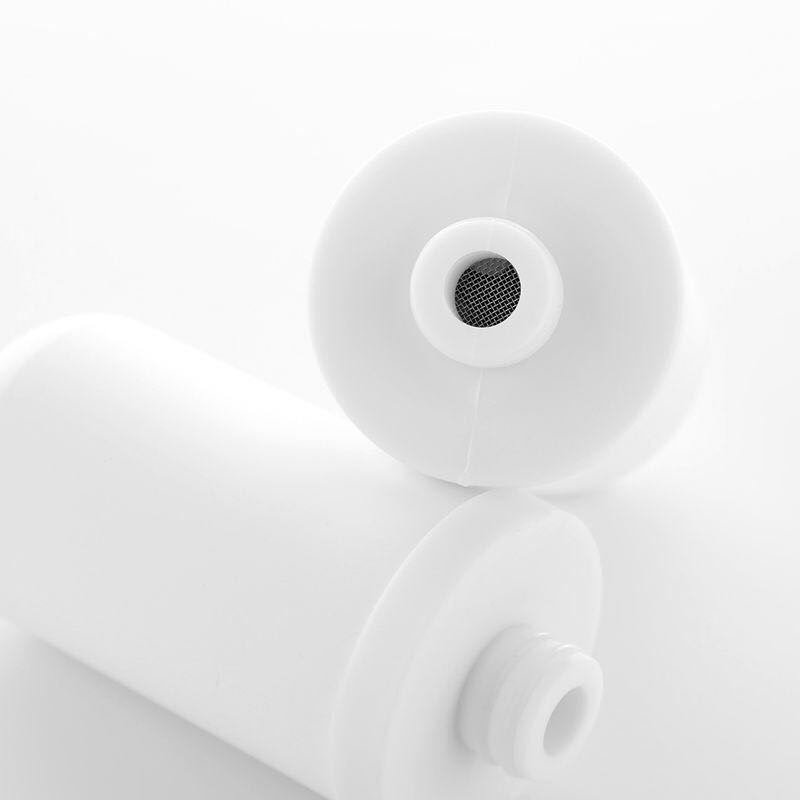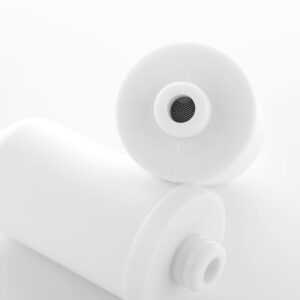 The water filters work by trapping impurities on the pores that are up to 0.5 microns in size. The small size of the pores makes them very effective at catching very tiny particles.
Ceramic water water filters can remove bacteria, sediments, and suspended particles in water.
What kinds of 5-stage cartridges are generally referred to?
As the name already implies, a 5-stage filtration system makes use of 5 cartridges in one system. The most important cartridge in this system is usually the reverse osmosis membrane. That explains why we call the cartridges before it pre-water filters. On the other hand, we refer to the cartridges after it as post-water filters.
The pre-water filters include the following: polypropylene sediment filter, carbon water filter.
Stage 1: The polypropylene sediment filter begins the process of water treatment. The filter removes different kinds of particles and sediments from the water.
It effectively gets rid of sand, metals, and dirt that usually give water a bad taste and a muddy appearance. Generally, polypropylene cartridges can handle particulate matter that is larger than 5 microns.
For this stage, you can also make use of a PP cotton cartridge. It passes as efficient removal of particles from water.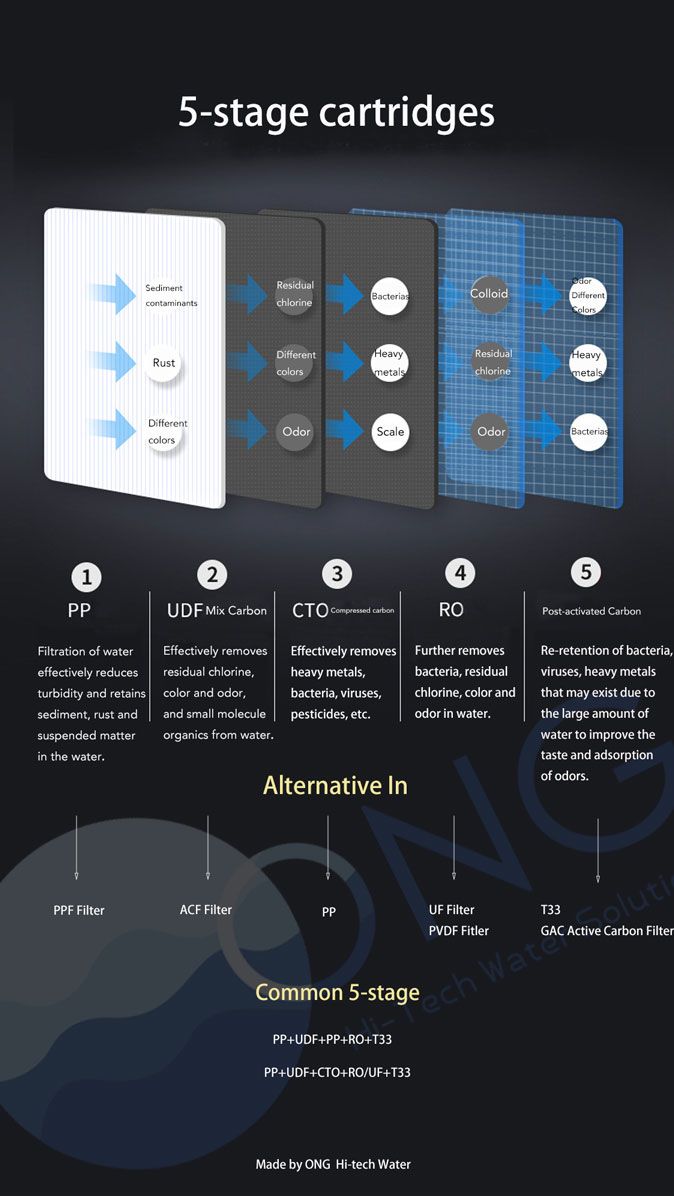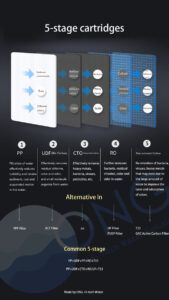 Stage 2: The next cartridge in a 5-cartridge unit removes chemical contaminants. Such contaminants will include pesticides, chlorine, oils, aluminum, and others.
This stage is very important. It gets rid of the contaminants that often destroy the reverse osmosis membrane. For example, chlorine has no problem ruining the pores of your RO membrane. Also, oils will clog the pores without hesitation. Getting rid of them with a carbon filter saves you that headache. The carbon filter is usually to be used in this stage.
Stage 3: The goal here is to remove all the total dissolved solids (TDS) left in the water. A Color Changing Resin Deionization Filter proves useful for this stage. Compressed activated carbon (CTO) is a commonly used choice.
Stage 4: The next cartridge is usually the reverse osmosis membrane. RO is excellent at removing organic and inorganic substances from the water. It's very effective in getting rid of fluoride, lead, copper, arsenic, and parasites.
This stage can reduce the total dissolved solids in the water to a negligible amount.
Stage 5: This stage ensures further treatment of the water after Stage 4. Here, the cartridge removes every taste, order, or color in the water. T33 post-activated carbon finds use in this stage. The KDF media filter is also good fit for this stage.
What kinds of 3-stage cartridges are generally referred to?
A 3-stage water filtration system uses three different cartridges to treat water. This is another type of multi-stage water treatment setup.
Stage 1: In this initial stage, you use a sediment filter. This will remove particles like dirt, sediment, and sand from the water. String or pleated polypropylene cartridge does the job very well.
Stage 2: The goal of this stage is to reduce the chlorine, fungus, virus, bacteria, and heavy metals from the water. Most multi-stage water purification systems use carbon water filters for this second stage.
Stage 3: This final stage removes impurities from the water. The final delivery is clean and free of soluble and insoluble compounds. Cartridge options for this stage include reverse osmosis membrane and granular activated carbon.
The guiding principle of selecting cartridges for DIY
It's helpful to know the principle of selecting cartridges. This is especially true if you're a DIY enthusiast. Cartridges are like sieves, so the smaller the hole, the more things they filter. That's the guiding principle of selecting cartridges for your use.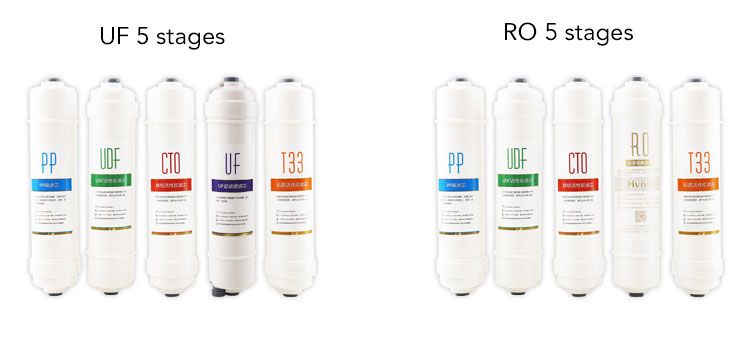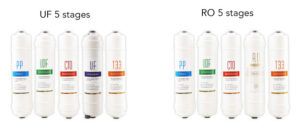 So, for the first stage, you would want a filter with large holes. This filter type will remove large particles and contaminants in the water. As you progress, you then use cartridges with smaller holes. They will filter out very small particles in the water.
Summary
The choice of filter types will depend on your specific need for purification in the first place. For most use cases, reverse osmosis membrane is the choice cartridge. It is effective for eliminating impurities in water.
For a multi-stage filtration system, you'll have to select the most appropriate water filters. This list of 16 must-know filter types will help you make the right procurement decision.