In a bid to conserve and protect the environment, the universe had made lots of efforts. One of these efforts is in the use of biodegradable products.
Bottleless water coolers are an example of this effort. They are the alternatives to bottled water.
Many people see bottled water as a form of waste. This is because plastic is a known pollutant of the environment.
Many companies in the U.S. have noticed this and have taken advantage of the opportunity. They have also made a lot of money from it.
In this article, we will be talking about some of these bottleless water cooler manufacturers.
The top 10 bottleless water cooler manufacturers in the USA are:
ONG drinking water solution
Primo Water Corporation
Waterlogic
Quench water
Avalon water coolers
Culligan water
Oasis international
Brio coolers
Crystal quest
Arctic coolers
ONG Drinking Water Solution
Location: Zhejiang, China.
Company Type: Manufacturer, Wholesalers.
Year Founded: 2017
Number of Employees: 30-50
Main Products: Bottleless water coolers
Other Products: Commercial ice machine. Reverse osmosis filtration cartridges. Bottleless sparkling water. Bottleless ice water cooler. Drinking Fountain.
ONG drinking water solution is one of the best exporters of drinking water products. They offer the best solution to drinking water products.
Don't you want to save time or money when sourcing drinking water products?
Don't you want to easy communication when importing drinking water products from China?
Don't you want to find a manufacturer who is with quality management approval by Costco and other brand giants?
Don't you want to find a supplier who can protect the design of your new products? Real protection, not only contract.
ONG company predicts and identifies your water filtration needs. They provide professionalism in all their different solutions. ONG is one of the best Chinese vertically integrated OEM and ODM solution providers. They have a lot of valuable services that may interest you.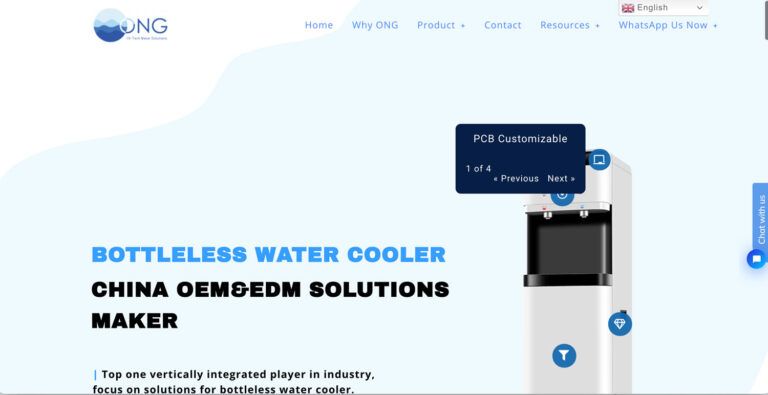 The company offers you a wide range of choices for your water coolers.
You could choose a bottleless water cooler that is hot or cold or a combination of both.
ONG drinking water solution also offers options of ambient and sparkling water.
Their bottleless water coolers come in different forms. Freestanding, Countertop, or wall-mounted integrated dispensers.
To ensure quality, this solution-making company has certificates from CB, CE, ISO 9001, and CSA. Which is the same as UL.
ONG drinking water solution helps you to stay eco-friendly. They help reduce your carbon footprint and plastic production.
When it comes to hygiene, this water cooler distributor got you covered. Their products have a hygienic self-cleaning system.
Their water filters are top-notch. They ensure profound filtration and are highly antimicrobial.
If you're looking for water drinking solutions, search no more. ONG drinking water solution gives you what you need. Not to mention their unique and unmatched products.
Primo Water Corporation
Location: Tampa, Florida, USA.
Company Type: Publicly owned Manufacturing Company.
Year Founded: 2004
Number of Employees: 500 to 1000.
Main Products: Bottleless water coolers.
Other Products: Countertop dispensers. Top loading dispensers. Portable dispensers. Water coolers. Pumps. Bottled water. Accessories.
Primo Water Corporation is among the world leaders in manufacturing water coolers. They are a water cooler manufacturer that produces safe, clean, and purified water.
They also provide bottled water. In case you're wondering.
Primo water corporation produces both hot and cold water dispensers. The Water coolers can be used both at home or in the office.
Their coolers have easy access for delivery. It consists of a single touch of the button.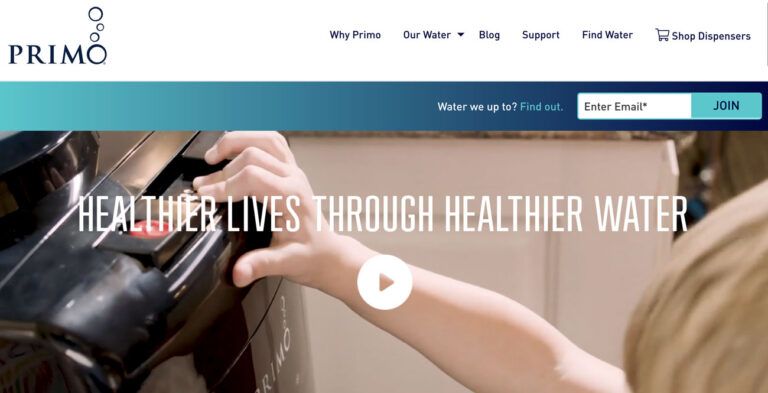 These manufacturers offer a variety of services for their water. First, you can get pure water through their refill stations.
To look for one is not hard, you just have to go to their website and click on the "Find Primo water near you" link. The link has three options you can choose from.
You can go to a refill to exchange water.
You can opt for a self-service indoor refill.
Finally, you can opt for the self-service refill outside.
Either one you choose is great, but the self-service outdoor refill is better. It gives you more freedom. And it's also convenient if you don't like the idea of waiting in line.
Are you wondering how safe Primo water is? Primo water is safe. Not relatively, but very safe. Their water has gone through several water filtration processes.
Their water contained no viruses, bacteria, or parasites. There are also no heavy metals in Primo water.
Primo Water Corporation has a nine steps purification process for their water. They include:
Pre-filtration states
Polishing filters
Carbon filters
Microfiltration system
The softener process
The reverse osmosis purification process
Remineralizing process
Ozonation process.
Finally, the inspection, sanitation, and filling phase.
Waterlogic
Location: They have their factory located in China. Their headquarters is located in the United States.
Company Type: Manufacturers. Distribution.
Year Founded: 1992
Number of Employees: Consist of an internationally based management team. They are all over America and Europe. They have a rough estimate of about 3000.
Main Products: Bottleless water coolers. Point of Use Water dispensers
Other Products: Firewall. Point of Use Water purification technology. Reverse osmosis filtration cartridges. Coffee machines.
Waterlogic is a leader of mains attached Point of Use (P.O.U.) water purification systems.
They are everywhere and produce cleaner, safer and pure water. They are highly innovative and have quite the experience in manufacturing pure water. Not to mention the fact that their water also tests nice.
Waterlogic was the first water manufacturer to introduce a mains feed dispenser. And ever since then it has kept its spot as the number one. Always delivering products with top-notch design and quality.
Their water filtration and purification process are highly certified. They also have antimicrobial technologies which are installed in them.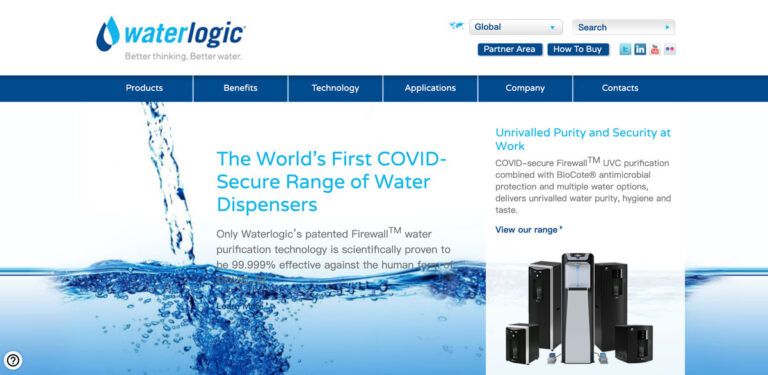 Waterlogic is not only about giving customers quality. They are also about saving the planet. They do this by reducing plastic pollution and making energy-efficient products.
Speaking about innovations, Waterlogic is among the world's most highly certified. They have the best purification technology. And this technology produces great-tasting, high-quality water.
They do this in the safest, cleanest, and most sustainable way.
Their bottleless water coolers are flexible and can be used in any environment. Like the office, factories, hospitals, public spaces, and even warehouses.
And if you're bothered about how to get to them. Don't. They're all over the world and ready to give you products of unique quality.
Quench Water
Location: Philadelphia
Company Type: Manufacturing. Subsidiary. Rental And Servicing.
Year Founded: 2008
Number of Employees: 200 to 500.
Main Products: Bottleless water cooler.
Other Products: Water coolers. Ice machine. Coffee machines. Sparkling water dispensers. B2B services.
Quench water company is a brand that has made its mark on happy customers. They offer water as a service solution. They do this by making filtered water available through different kinds of dispensers.
With their products, there are a lot of choices to make and pick from. They have alkaline water. The reverse osmosis water and even sparkling water. There is also flavored water, chewable ices, and coffee machines.
Quench water offers a high level of consistent services. Their products are cheap and environmentally friendly. They help you save up to about 80%. While you do that, you also save the environment as well.
Their bottleless water coolers are the perfect fit for any kind of business.
With Quench, you don't have to order water or worry about a jug. They are bottleless water coolers that are connected directly to your water supply.
Quench water offers advanced water filtration. Their water is also electrolyte-infused and contains no contaminants.
Avalon Water Cooler
Location: New Jersey, USA
Company Type: Privately held. Manufacturers. Customer services. Facility services. Distributing services.
Year Founded: 2008
Number of Employees: 51 to 200.
Main Products: Bottleless water cooler.
Other Products: Water Coolers. Water filters. Cleaning kits. Base. Water bottles. Cup dispensers.
Avalon Water Coolers company are the leading world's most reliable water coolers. They are a leading brand in hydration equipment. The core of this company is to provide clean drinking water to all its customers.
They make this water accessible to anyone, anywhere. Their products and water coolers are fit for both offices and homes.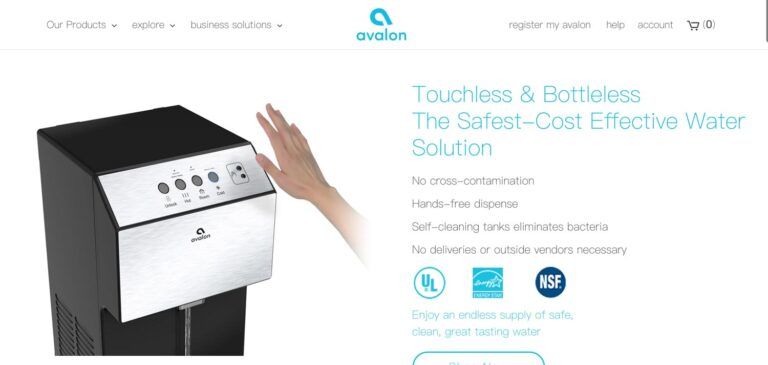 Their bottleless water coolers come in several temperatures. They're both hot, cold, and a combination of both.
Avalon water coolers are designed to fit customers' choice, health, and size of wallet.
Yes, Avalon is customer-centric. They take pride in their Superior customer support services. They also take pride in the quality of products they offer.
Their products are designed with the best materials and technologies. Their water coolers are tested and held to very high standards.
They are certified by NSF, UL, and Energy Star. This is to show that they are not only good. They help you save money and energy.
So with Avalon, you save money and enjoy revitalizing clean and pure water.
Their bottleless water coolers have self-cleaning systems. This works by the use of ozone, which is a powerful disinfectant. More powerful than chlorine.
The Avalon water filter lasts about six months. It is a dual-stage filtration process that includes a carbon black filter.
Culligan Water
Location: Illinois, USA.
Company Type: Manufacturers. Service provider. Consultancy
Year Founded: 1936
Number of Employees: Almost 5000.
Main Products: Bottleless water coolers. Water treatment services.
Other Products: Water. Water softener. Bottled water. Water filtration technology.
No other manufacturer thinks about cleaner water than Culligan water. Their bottleless water coolers are top-notch. It's a great choice to give your family the water they need.
They come in a variety of temperatures. It ranges from warm to cold, too hot. They are suitable for any space, whether the home or office.
The installation of Culligan waters is also something to look out for. They offer a hassle-free installation that will be completed by experts. These water coolers can be installed anywhere you want.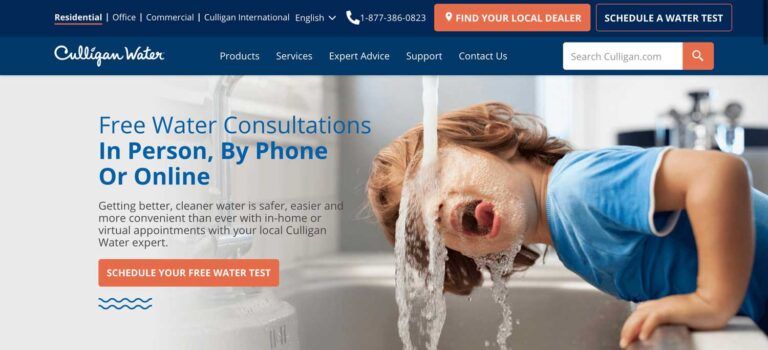 And if you're feeling lost about bottleless water coolers, stop. Culligan water offers consultation services too. Where they help you decide which water cooler suits you.
Their water cooler comes with ambient or sparkling water. Which could be hot or cold.
Their dispensers use dry cooling technology. This means it makes little to no noise. And it also means the cost of maintenance will be low.
A dry cooling technology means high performance and a great compact size.
The Culligan bottleless water cooler has amazing functionality. It can produce up to 8 gallons of cold water in an hour. In nothing less than a gallon per minute fill rate.
Oasis International
Location: Columbus, Ohio, USA.
Company Type: Privately held. Manufacturing. Distribution. Sourcing.
Year Founded: 1910
Number of Employees: 200 to 500.
Main Products: Bottleless water coolers.
Other Products: Water filters. Water coolers. Drinking fountains. Point of Use water dispensers. Bottle coolers. Dehumidifiers.
In its history, Oasis International has remained eco-friendly. It is one of the leading industries producing eco-friendly bottleless water coolers.
They have designed, engineered and manufactured, and distributed the world's best water solutions.
Oasis International has facilities in Mexico, Poland, China, and Ireland.
Their main goal for 100 years has not changed. That is to deliver and provide refreshing, clean, and pure water.
Their water is bacteria-free, contains no sediments, metals, or chemicals.
Oasis International is known for its wide range of products and services.
Their products have the best technologies. An example is Thermoelectric cooling and the use of hydrocarbons.
Hydrocarbons are a green alternative to chlorofluorocarbons and hydrofluorocarbons refrigerants.
These green initiatives make them global leaders in water coolers. With a specialty in designing, manufacturing, and distribution.
Brio Coolers
Location: California, USA.
Company Type: Manufacturer. Wholesale. Supplier.
Year Founded: 1992
Number of Employees: over 500.
Main Product: Bottleless water coolers.
Other Products: Water coolers. Accessories. Water filter. Reverse Osmosis systems.
If you ever need a cooler with a wide range of filtration methods, you need Brio coolers. Why? Because they are committed to doing that. They will service all your hydration needs. And while at it, they offer a wide variety of water filtration methods.
Brio coolers have both top loading and bottom loading coolers. So you make the choices as befitting your needs. Their coolers are also equipped with modern technologies. Making their water friendly and safer for drinking.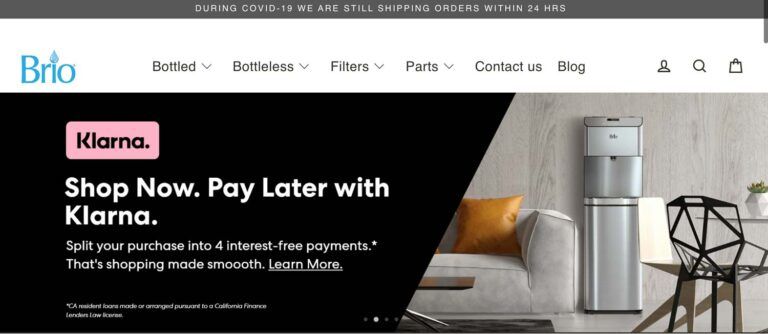 They offer coolers for different purposes. They have compact water coolers that can be used in offices or homes. Not only that, but they also have traditional coolers. Either way, all their products are designed to suit your lifestyle.
Their coolers come with a wide range of filtration methods. Some have a single filtration method, while others have several filtration methods. This several filtration method ranges from two to four stages.
They also feature three stages of advanced water filters for bottleless water coolers.
Some of their coolers are equipped with self-cleaning systems. Making it easier for you as they need less maintenance time.
Brio coolers are Energy Star approved, Intertek certified, and UL listed.
That means they are of good quality and help you save money. They also offer child safety locks, night lights, and premium filtration.
Crystal Quest
Location: Georgia.
Company Type: Manufacturing. Marketing.
Year Founded: 1994
Number of Employees: 51 to 100
Main Products: Water filters.
Other Products: Commercial water filtration. Residential water filtration. Reverse Osmosis systems. Whole-house filtration. Ultraviolet disinfection. Carbon water filters. Water filtration cartridges.
This is a progressive manufacturer and marketing company of water filtration products.
They have water filters that are tested, trusted, and proven. Their filters are cost-friendly and very reliable. They can be used in houses, offices, industries, and factories.
Crystal quest is concerned with producing quality water filters. They also have excellent and functional customer service.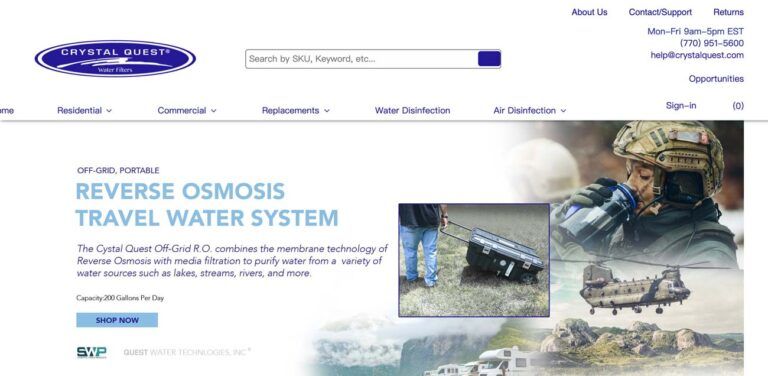 Their water filters have the best international recognition. They are in all the phases of water treatment technologies.
Crystal Quest water filters are Energy Star approved. This is to say, they are energy efficient and pose no threat to the environment.
People who use Crystal quest do so for several reasons. One of the reasons is that Crystal Quest knows what its customers want. Their wide range of products can fit any kind of water problem.
Aside from private use, their water filters can be used commercially. They can be used by water plants, manufacturers, agricultural facilities, and so on.
If you need to buy a water filter that offers peace of mind, they are equipped to fit that need.
Arctic Coolers Inc.
Location: New Jersey, USA.
Company Type: Supplier. Manufacturer. Distributor. Service provider.
Year Founded: 1986
Number of Employees: 50 to 200.
Main Products: Bottleless water cooler.
Other Products: Touchless water coolers. Freestanding water coolers. Countertop water coolers.
Last but not least. Arctic coolers incorporated is dedicated to helping its customers save as much as possible.
Buying water coolers from the Arctic helps you save about 70%. Their products are very easy and convenient to use. They are not heavy.
One amazing thing about Arctic coolers is their touchless features. This feature helps you to reduce the unnecessary spread of germs and bacteria.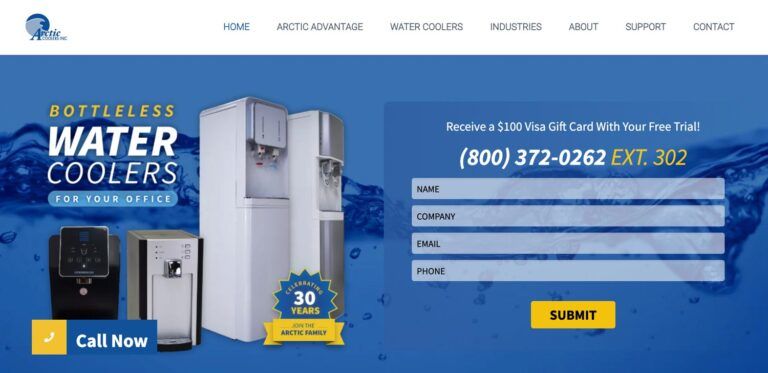 Arctic coolers are convenient for your home, office, and even business places. Buying bottleless water coolers from active coolers means free installation. This is also accompanied by full-service preventive maintenance.
Their coolers are eco-friendly. They help you to reduce your carbon footprint. Using Arctic coolers also means a deep reduction in the use of plastics.
The primary reason to choose their water cooler is the four-stage carbon filtration process. It works with a 99.9% efficiency rate.
Another reason is that their bottleless water coolers are not costly at all. They are budget-friendly as they are durable.
Conclusion
In the U.S., the use of bottleless water coolers has become a trend. If you're going to join this trend, you need to know the top 10 manufacturers in the USA.
Knowing this will help you do business with the right manufacturers.
I hope this article can help you analyze the competitor's information before your bottleless water cooler procurement. Here is another article: The Top 10 Bottleless Water Cooler Suppliers In The U.K